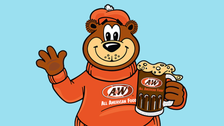 A soft drink company's joking tweet about its mascot's clothing choices apparently caught Fox News with its pants down.
On Tuesday, A&W Root Beer announced on Twitter that Rooty the Great Root Bear would start wearing trousers.
The post appeared to be a jesting reference to a recent decision by chocolate brand M&M's, which put its "spokescandies" on "indefinite pause" after conservative types like Fox's Tucker Carlson griped that the green M&M character was now wearing tennis shoes instead of go-go boots.
The A&W tweet read, in part: "America, let's talk. Since 1963, Rooty the Great Root Bear has been our beloved spokesbear. We knew people would notice because he's literally a 6-foot tall bear wearing an orange sweater."
It added, "But now we get it — even a mascot's lack of pants can be polarizing."
Considering that many corporate characters — like Poppin' Fresh, Chester Cheetah and the Geico Gecko — have long opted to go pantless, A&W's social media staffers probably thought most people would recognize the tweet as a gag.
But the joke was on them, because Fox News assumed it was real and reported the announcement as yet another sign of "woke police cancel culture" run amok.
Eventually, A&W felt obligated to clarify that the tweet was a prank after Fox Business published a story with this sensationalized headline: "FUR COAT AND NO KNICKERS: A&W Root Beer is the latest company bowing to 'woke.'"
As a result, Fox Business then changed its headline to reflect the jokey nature of the soda company's announcement.
Meanwhile, Twitter users mocked the overreaction to the pantless bear post.