Dead Island 2 consists of a variety of Ranged Weapons, with each one having a different stat. These figures can help players understand the effectiveness of each weapon during combat and allocate useful ones in different scenarios. The game has classified Ranged Weapons into four different profiles or categories, but each firearm has specific stats that can elucidate its importance.
This article will explain every Ranged Weapon stat and how it works in Dead Island 2.
---
All Ranged Weapon stats explained in Dead Island 2
The weapon's stats are divided into categories: firepower, range, accuracy, magazine size, and more. The stats give away their potential and weaknesses as well as their specialty.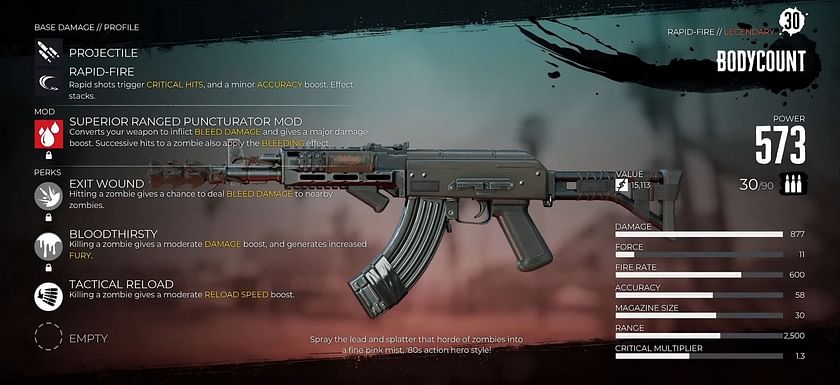 The universal stats of each Ranged Weapon in Dead Island 2 are explained below:
Base Damage / Profile: These weapons generally deal projectile damage, and their profile differs for each weapon depending on their characteristics.
Mods: This shows the mod installed and how it will boost the weapon to increase its effectiveness during combat.
Perks: Perks can modify different stats of the weapon to increase its efficiency. The more perks installed on the weapon, the better influence it will have on the firearm.
Power: This defines the overall score of a weapon, which increases by upgrading or adding new mods and perks. This score highly fluctuates with a few modifications.
Damage: This indicates the raw damage dealt to enemies with a single shot. The actual damage may differ during combat depending on the toughness of the zombies.
Force: The higher the force, the lesser time it takes to take down a zombie. Higher caliber tends to have a higher amount of force which can even knock down enemies with a single hit.
Fire Rate: Fire rate defines the amount of time it takes for a weapon to fire a subsequent shot. The higher the fire rate, the lesser time it takes to shoot multiple shots.
Accuracy: High-accuracy weapons tend to miss fewer shots on target. Taking down enemies with a highly accurate firearm generally requires less ammo.
Magazine Size: This defines the number of bullets that can be stored in a single magazine before reloading.
Range: This defines the approximate distance through which the bullet can travel before it falls down.
Critical Multiplier: The weapon's damage multiplier when it incurs critical damage. The multiplier stacks up with every critical hit, implementing further damage and easier kill.
---
This sums up the effectiveness of stats for Ranged Weapons in Dead Island 2. Players should find a blend of all the stats to determine a suitable weapon according to their preferred playstyle. It is also advised to upgrade these firearms to increase their overall stats.
Edited by Sijo Samuel Paul