RG4 Maikel is a well-known Free Fire content creator who is a member of the RE4LG4LIFE clan. He occasionally posts videos on the game while live streaming on his YouTube channel. He currently possesses 451 thousand subscribers on his channel, in addition to a total view count expanding the mark of 20 million.
The personality also has 362 thousand followers on his Instagram handle, showcasing his mass popularity in the country. Fans can find details regarding RG4 Maikel's Free Fire ID, stats, and more in the section below.
Disclaimer: Free Fire has been banned in India, so players from the country are recommended not to play the battle royale title on their devices. Nonetheless, they may engage in the MAX version since it is not prohibited in the nation.
---
RG4 Maikel's Free Fire ID, guild, rank, and stats
RG4 Maikel's Free Fire ID is 100785751 and his IGN is "RG4 Maikel". He leads the "RE4LG4LIFE" guild, whose Guild ID is 60657139.
The player ranks Gold I in BR-Ranked Season 33 and Platinum I in CS-Ranked Season 18. The stats that he has are as follows:
BR Career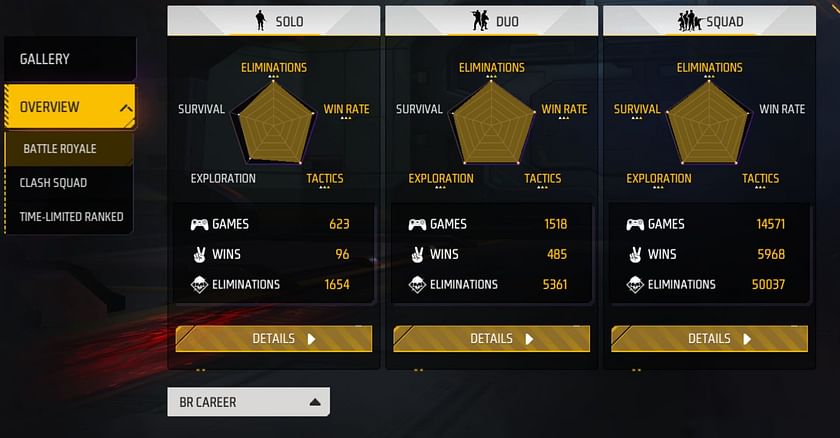 RG4 Maikel has played 623 solo games and 96 first-place finishes, converting to a win rate of 15.40%. With 1654 kills, he has a K/D ratio of 3.14.
The content creator has also engaged in 1518 duo matches and has remained unbeaten in 485, leading to a win percentage of 31.94%. There are 5361 frags to his name for a K/D ratio of 5.19.
Lastly, the player has competed in 14571 squad games and has 5968 Booyahs, giving way to a win ratio of 40.95%. He has accumulated 50037 kills, upholding a K/D ratio of 5.82.
BR Ranked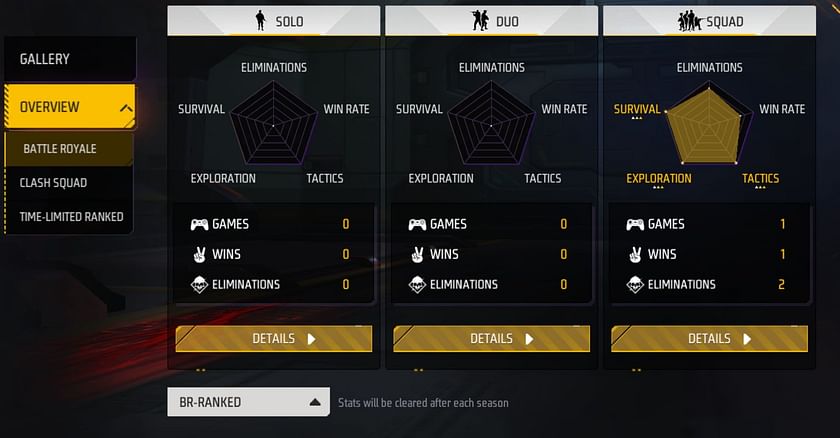 Inside BR-Ranked Season 33, RG4 Maikel has competed in one squad match and has secured the win, making his win rate 100.00%. He has bagged two kills for a K/D ratio of 2.00.
Apart from this, he is yet to play games in the duo and solo modes.
CS Career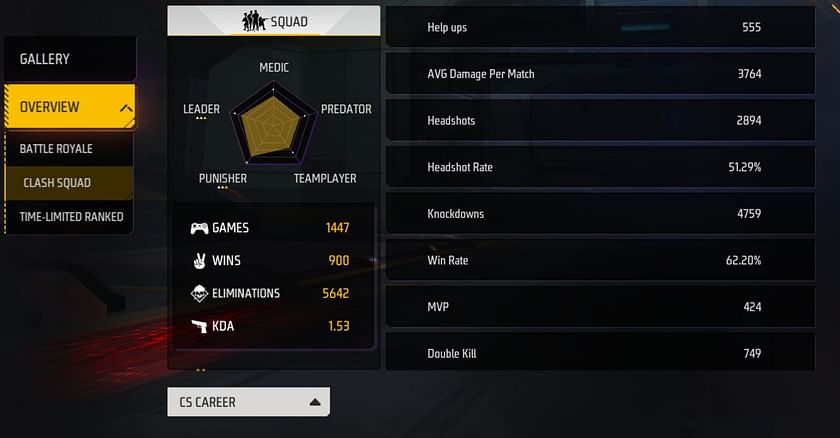 RG4 Maikel has featured in 1447 Clash Squad matches and has precisely 900 victories, possessing a win rate of 62.20%. He has gathered 5642 kills for a KDA of 1.53.
Note: RG4 Maikel's Free Fire stats were recorded when writing the article (May 3, 2023). The stats above will change as he continues to engage in more matches inside the battle royale title.
---
YouTube channel
RG4 Maikel has grown consistently since he started his journey on YouTube a few years back. His oldest video is from April 2020, and he currently has 351 uploads to his name, of which the most-watched one has garnered 574 thousand views.
As per Social Blade, RG4 Maikel has received 65.797 thousand views in the previous 30 days. Nonetheless, his subscriber count has remained unchanged over the same time frame.
Check out the latest Free Fire MAX redeem codes here.